Dean:Abdullayev Ilyos Sultanovich
Telephone: +998975109020
Email: ilyos-1970@mail.ru
The history of "Tourism and economics" faculty
"Tourism and economics" faculty of Urgench State University is one of the largest higher education establishments of Khorezm region in Uzbekistan. It was organized as a faculty "Economics", affiliating Urgench subsidiary of Tashkent State university of Economics with humanitarian faculty of UrSU in 1995, July 9.
Dean of the faculty is Salayev San`atbek Komilovich, who is the doctor of economic science, professor.
Head of the "Economics" chair is candidate of economic science, docent Matyakubov Umid Raximovich.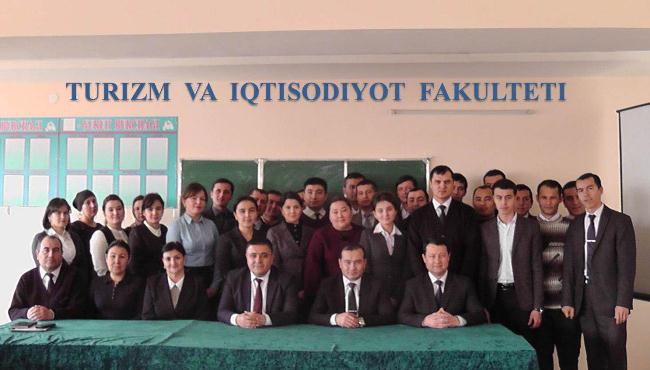 Head of the "Tourism" chair is candidate of economic science, docentFarhod Azadovich Abdullayev.
Head of the "Professional education and accountancy" chair is candidate of economic science, docent Ilyas Sultanovich Abdullayev.
In the faculty there are 45 professor-teachers that are doctors of science and professor, an honory professor, 13 candidates of science and docents, 7 high teachers and 22 assistant-teachers.
Nowadays faculty has 4 bachelor`s degree and 2 master`s degree programmas. Bachelor`s degree program envolves "Economics (all sectors and industries)", "Tourism (types of activities)", "Organization and manegement of hotel economy", "Professional education (economics)", "Accountancy and audit" trends, also Master`s degree programm includes "Economics" and "Tourism (international)" specialities.
In the faculty 3 scientific and pedagogigal training of academic schools have been formed and following scientific works are carried out under the supervision of professors:
• integrated development of the region and the formation of an innovative economy;
• development issues of small business and entrepreneurship;
• modern trends of developing service system;
• the priorities for the development of tourism and hotel business;
• the priorities for the development of the market of tourist services in the region;
• development issues of improvement the living conditions of the population, non-standart forms of employment and labor market;
• enhancing the effectiveness of the teaching of vocational subjects.
Till these days prepared 11 candidates by prof.T.Do`stjanov, 4 candidates by prof B.Ro`zmetov, 2 candidates by prof.S.Salayev.
In 2016 a monograph, 4 training manuals, 12 articles in the foreign influental magazines, 9 articles in the national magazines, more than 40 abstracts in the Republic scientific-practical conferences, 8 abstracts in the international conferences have been published by faculty teachers.
In the faculty with the State scientific and technical programs the scientific research works are being carried out based on a fundamental, 2 practical, an innovative projects. Also, in the faculty organized senior scientific researchers Institute, with the leadership of professors B.Ro`zmetov, T.Do`stjanov and S.Salayev, 5 senior scientific researchers are searching scientific works on specialities 08.00.05 "Service sectors of economics", 08.00.12 "Regional economics", 08.00.08 "Economics of small business and entrepreneurship".
Faculty has an international relations with the honorable universities of USA, England, Germany, Spain, Great Britain, Czech, Russia, Poland, Belgium and other countries.